| | | |
| --- | --- | --- |
| | 5mm 2-Hand Random Orbital Sanders | |
| | |
| --- | --- |
| * | The 2-hand handle and low vibration combine to provide superior control and flawless finishes. |
| * | Durable lightweight composite housing design |
Non-Vacuum

*
2HS-N5/5กจ Diameter (RPM 9,000)
*
2HS-N6/6กจ Diameter (RPM 9,000)

Central Vacuum

2HS-C6/6กจ Diameter (RPM 9,000)

Self-Generated Vacuum

2HS-S6/6กจ Diameter (RPM 9,000)

| | | |
| --- | --- | --- |
| | 10mm 2-Hand Random Orbital Sanders | |
| | |
| --- | --- |
| * | Large orbit for removing heavy materal with swirl-free finish |
| * | Durable lightweight composite housing design |
Non-Vacuum

*
2H10S-N5/5กจ Diameter (RPM 9,000)
*
2H10S-N6/6กจ Diameter (RPM 9,000)

Self-Generated Vacuum

*

2H10S-S6/6กจ Diameter (RPM 9,000)

Central Vacuum

*
2H10S-C6/6กจ Diameter (RPM 9,000)
Model No.
Pad Dia
Inch(mm)
Weight
Lbs.(Kg)
Diameter
Orbit
Noise
Level
Vibration
m/s2
RPM
Air
Inlet in.
Min. Hose
Size
in.(mm)
Avg. Air
Cons
CFM(l/min)
2HS-N5
5"(127)
2.9(1.3)
5
80dBA
0.8
9,000
1/4
3/8(10)
15(427)
2HS-N6.S6.C6
6"(152)
2.9(1.3)
5
80dBA
0.8
9,000
1/4
3/8(10)
15(427)
2HS10-N5
5"(127)
2.9(1.3)
10
80dBA

0.8

9,000
1/4
3/8(10)
15(427)
2HS-N6.S6.C6
6"(152)
2.9(1.3)
10
80dBA
0.8
9,000
1/4
3/8(10)
15(427)

Description :
Unique, serrated stripping wheel for fast and thorough surface removal. Quickly and safely remove seam sealer, rust and paint and underbody protectors, without heat build-up and surface damaged. The rubber eraser wheel for adhesives, pinstripe and graphics removal.
ST-280 Non-Vacuum

ST-280C Central-Vacuum

ST-280S Self-Generated Vacuum


Features :
Innovative 180° rotational handle for precise leverage and control. Suits both for right-hand and left hand uses.
Unique double side safety guards and integrate dust extraction system for safe and clean operation.
Planetary gear system for increased torque.
Ergonomic cushion grip insulates against cold and vibration.
Adjustable exhaust outlet in rear of tool allows choice of exhaust direction.
Paddle style trigger for precise speed control.
Accessoires :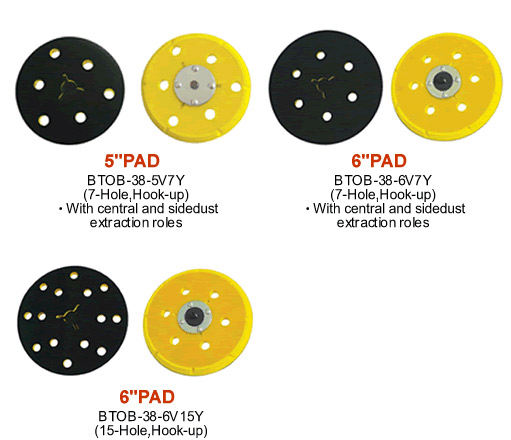 Model No.
Spindle
Thread
Weight
Lbs.(Kg)
Length
in.(mm)
RPM
Air inlet
in.
Min Hose Size
in.(mm)
Avg-Air Cons
SCFM
ST-227
5/16-24
2.2(1)
7.8(198)
4,000
1/4
3/8(10)
22